First and Greatest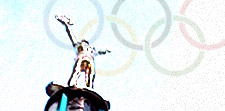 We begin with a purely practical appeal: connecting with God is by far the most important topic a person will ever encounter. Every other issue is in its context.
Yet too often we run from it. Why? Before addressing that, I want to encourage the bottom line:
There really is a God of love. I'm betting life it's true.
---
A few further incentives to continue interest:
So if there's one thing to encourage: God must be the first and greatest desire. This is the most logical and satisfying decision a person can make.

More good news: We may feel we have a long way to go, but He never wants anything more than the heart, in each present moment. In the future he'll want nothing more either. There are no expectations for a perfect performance; he simply wants you. "Come as you are." Life is an invitation.
Nothing else will really satisfy. What could?
Life is not about waiting for and collecting blessings. If you look only for the blessing, you will miss Me as I pass on by once you collect your goods. This life is first and foremost about your relationship with Me. Does anyone still know that a life of blessedness flows from our relating? The true blessings of life are attained in your knowing Me, for there is no higher attainment. Everything else you'll ever gain—wealth, health, friends, prestige—all of it will be gone one day.
Look for Me in these and other possessions for I augment each part of life and put the proper touch into it in such a way that you'll know where things belong and how fleeting possessions of any kind are. I bring seasons of anointing to areas of your life that only last for a time—some as short as a sunset, others as long as another's life. But in the end, it all comes back to you and Me.
It is in this connection that true love finds its expression, a love that builds My Kingdom on the earth and prepares the way for your coming to Me, closer and closer with each step, together forever, a love unmatched in the universe. Let us love as I have ordained it. Do not let my gifts for you ever be a source of entanglement. For the true light that shines brightest, shines when you come to Me with open hearts and hands, yearning only to know and love Me more deeply.